Hola, pips! Your loyal TheTravelingFrenchMan is exploring the dating world of the best Mexican dating sites this time.
As you know, not too long ago, I was in Mexico, exploring the peculiarities of local dating. I got a chance to talk to over 50 locals who shared their love stories and experiences, as well as gave me advice on how to start a relationship in Mexico as a foreigner.
And the most popular way of meeting single Mexican women and men appeared to be through the most popular dating apps and sites.
That's what inspired me to try all the Mexican dating sites I was recommended. I also did my fair share of googling to ensure I didn't leave out any worthy Hispanic dating site.
Read on and see my experience on 5 dating sites in Mexico, which I think will work for Western users.
Top 5 Mexican dating sites & apps
Each of the dating services that I call the best Mexican dating app or site went through thorough testing by me. I left out more than 20 other sites. Here are the best ones:
Best Mexican Dating Sites & Apps
Overall best online dating site for meeting Latin women:
👉🏻

La-Date

Best for searching for a perfect Mexican woman but still keeping options open:
👉🏻

TheLuckyDate

Best for instant communication with singles from Latin America:
👉🏻

ColombiaLady

Best for exchanging private photos with sexy Latinas:
👉🏻

LatiDate

Best dating app for casual dating:
👉🏻

Mexican Cupid
The online dating scene in Mexico is very vibrant, and all of the dating apps and sites I chose can help you meet potential matches who will meet your dating goals.
But these dating apps and sites are not the same. Read on for a full review of my experience testing and spending my own money, so you don't have to.
1. La-Date
Key takeaways: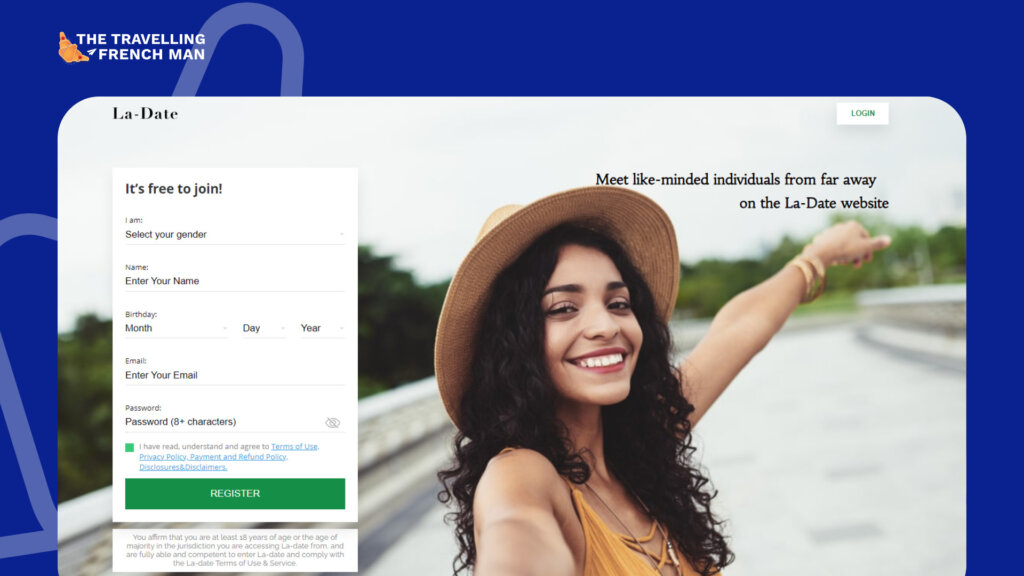 Why did I choose it?
The best Mexican dating site that opens my rating of foreigner-friendly dating services is La-Date. It's not just a Mexican site; you can meet singles from other countries in Latin America too. That's why singles and sometimes couples recommend I put this site to the test to see if it worked in Mexico.
So I did!
The sign-up process was easy and fast. I became a member and started browsing singles in Mexico City. There were many Mexican ladies with detailed profiles, and over 85% of them had gone through verification, which is a big plus.
I enjoyed the communication and scrolling through the newsfeed the most. But virtual gifts are also worth mentioning, although they're not a free feature. All premium features require credits.
To actually chat or exchange photos, I bought 250 credits for $69.99, which was more than enough for a really long time. Note that I didn't restrict myself at all.
Features I liked:
Verified members—it helps me feel at ease knowing that I'm chatting with real women. But still, you should always check for red flags in communication.
Various search ways for connecting to compatible Mexican singles. Extended search with filters, interactive matching with likes and skips, and the on-site social media-like service Newsfeed.
Several communication methods, like chat, prompted messaging, love letters, photo exchange, and more, don't allow users to get bored.
Pros
Many active Mexican women and men dating online

Intuitive navigation

Photo and video exchange

Detailed profiles

On-site social media with active posters
Cons
No dating app yet

No free communication ways
🔥 Join La-Date now and get 30 credits free right after confirming your email!
2. ColombiaLady
Key takeaways:
ColombiaLady was founded in 2018
It has 77% female and 23% male gender ratio
Despite the name, the website has many Mexican women and men
Why did I choose it?
When I was recommended this site in Mexico, I didn't have high hopes. I thought it was only for Colombian dating, but as I found out later on, it works well for many other countries in South America as well.
The site is simple and has easy navigation. I liked how comfortable it was to search for and contact ladies.
Oh, and the number of text, audio, and video communication tools can leave many popular dating sites in envy! I've tested them all, and they all worked just fine. Most women were open to all forms of communication. But there were a few girls who weren't comfortable with video—I understand that's not a thing for everyone, especially if you've just met someone.
Another unique site feature that caught my attention right away was virtual gifts. It might seem like nothing, but I always bring flowers to IRL dates; why change the tradition for online ones?
Also, I liked that most people are verified, and I haven't seen any fake profiles while exploring the site.
Features I liked:
SmartMatches helps you find the most compatible Mexican woman or guy. And I also enjoyed using standard search filters.
Virtual and real gifts delivery can make a good surprise even when you are doing long-distance.
CamShare, one of the unique site features, was a fun way to see female members live in real-time.
Pros
Over 75% of members are verified

Good free-to-paid service ratio

A convenient search to find an ideal match

Match Q&A
Cons
The app is available only for Android users

A free member is quite limited
🔥 Become a member of Colombia Lady and benefit from a 1-month free membership!
3. LatiDate
Key takeaways:
LatiDate is a new site that was launched just in 2023, but winning hearts in Latin America
The website has around 25K monthly visits
It has around 70% females and 30% males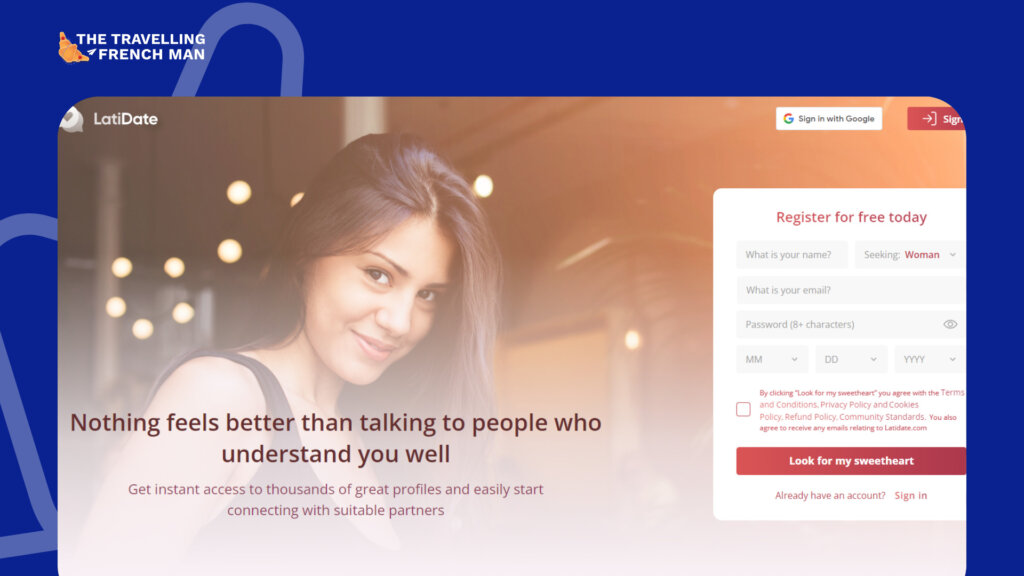 Why did I choose it?
That's the site that was recommended to me by my young Mexican neighbor during my first days in Mexico. And I forgot about it (I don't know why I didn't make notes as usual).
I was on the move for a few weeks, and when we crossed paths with this guy again, he asked me about the site, and that's how I chose to test it.
The site is new, so not many dating experts and gurus have said anything about it yet.
LatiDate looks sleek and has everything for a comfortable search and communication with potential dates, as I prefer text chat when online dating, messaging, and mail are enough for me. But I see how some people might want more.
The site provides many suggestions for profiles, which, to my surprise, wasn't annoying. On the contrary, I started chatting with probably 4-5 girls this way.
LatiDate is a convenient place to search for a perfect match in Mexico.
Features I liked:
Fun "Like her" feature to swipe through free and premium members and like or message people you like. I had so many matches!
Recommendations of Similar Girls to choose even from a wider pool of hot Mexicans.
Making the list of Favorites was handy, as I always lose good profiles if a girl takes a little longer to reply, as DMs get quickly swamped by other users' messages.
Pros
Modern, user-friendly interface

Most members have detailed profiles

Convenient search filters to pick a compatible match

New member badge for not missing out on potential Mexican girlfriend or boyfriend
Cons
No dating app yet

Premium membership can get expensive if you watch a lot of videos
🔥 Join LatiDate and take advantage of 20 free credits for all new users!
4. TheLuckyDate
Key takeaways:
TheLuckyDate has over 640K monthly visits
It has a 77% female to 23% male ratio
Unlike other services on my list, TheLuckyDate is an international service that allows you to connect to not just Latino singles but single women and men from all over the world
Why did I choose it?
I'd heard good things about TheLuckyDate, a popular Mexican service, so I decided to give it a shot. I put it to the test and didn't regret it.
Signing up was simple, and as a member, I was able to browse profiles, search, and talk with other members. Even though there is no actual app, the app-like interface caught my eye right away.
TheLuckyDate keeps an okay ratio of free and paid services, with credits available in different packs.
My entire impression was positive, and I especially enjoyed how active the ladies from Mexico City were. I got to go on so many real dates!
Features I liked:
Timed messages with photo and video attachments were my favorite of the features I tested
Interactive matching is fun and works the same as in one of the popular dating apps we all know.
Activity tracking worked well and helped to keep up with all of the new users interacting with my profile.
Pros
Free sign up

Sleek design and intuitive navigation

It's easy to find the right person with location search and interactive matching

Fun disappearing messages
Cons
Messaging is the only way to chat

Free membership is quite limiting
🔥 Sign up to TheLuckyDate and enjoy the discounted price for 2,000 credits for just $2.99!
5. MexicanCupid
Key takeaways:
MexicanCupid is a part of Cupid network, and it was founded in 2005
There are over 1.5M members on the site
MexicanCupid has around 490K monthly visits
Why did I choose it?
The good old forum helped your loyal TheTravelingFrenchman find this gem. I found it legit, but the reviews and feedback were quite mixed—that's why I tested it myself.
Registration was quick; however, my profile remained blank, requiring more time to fill it in afterward. Finding matches was made simple by the user-friendly design and advanced search criteria. Also, I like compatibility matching a lot!
However, basic users are limited to free services; texting and immediate translation require a Gold subscription, which starts at $16.87 a week.
Features I liked:
Advanced search with over 15 filters to find that perfect match. I was able to filter by age range, body type, marital status, and other important criteria.
Handy activity tracking allows user to keep an eye on likes, favorites, members who viewed your profile, and your block list
New members badge not to miss out on hot Mexican singles
Pros
Very fast sign-up process

VIP profile highlighting

Easy search for potential matches

Compatibility matching
Cons
Instant messaging is the only communication way

Standard members are quite limited
🔥 Join MexicanCupid and dive into short and long-term relationships!
How I tested these Mexican dating sites
Oh, my… my dating experience on these sites was exciting. At first, I scrolled and scrolled through profiles of Mexican singles, but after active users started to message me first, I dived into communication.
It took me by storm. I am even a bit embarrassed to mention that during this testing time, I sometimes spent 5+ hours non-stop talking to different Latin singles.
I enjoyed that most platforms offered a variety of communication ways. Especially La-Date and LatiDate. I enjoyed exchanging disappearing photos and videos on TheLuckyDate a lot!
But most importantly, my experience on these dating apps and sites turned out into a success story. Well, no steamy love stories (maybe 😉) or wedding bells yet. But I went on 5 great dates and talked to 23 ladies for over 3 days.
Overall, the response rate was quite decent. ColombiaLady and La-Date surprised me with the most active users.
On my dates, I chatted with ladies and had a lot of fun, and, of course, I couldn't miss out on the chance to ask about real dating intentions. As all the ladies I asked on a date were quite bubbly, it was easy to find out everything I needed.
Around 2/3 hinted that they wanted to meet someone for a long-term relationship, and the rest either weren't sure or just wanted to try and see how it went.
Both strategies are right in my look!
So, all in all, I don't regret joining the sites and spending over $500 on them. I hope my experience will help you join a dating platform leading you to your true love.
Comparing the best Mexican dating apps & sites
Offer Name
Free App
Pricing
Compatibility
Welcome bonus
Registration

free app

From $2.99 for 20 credits (first purchase) to $149.99 for 750 credits

From $2.99 for 20 credits (first purchase) to $149.99 for 750 credits

Desktop, but the site is web-responsive

Desktop, but the site is web-responsive

30 free credits after registration and email confirmation

30 free credits after registration and email confirmation

FREE

free registration

free app

From $3.99 for 2 credits to $399 for 100 credits

From $3.99 for 2 credits to $399 for 100 credits

Desktop, Android app

Desktop, Android app

Discount for new users—2 credits for $3.99 instead of $15.99, and 1-month free premium

Discount for new users—2 credits for $3.99 instead of $15.99, and 1-month free premium

FREE

free registration

free app

From $12.99 for 35 credits to $200 for 1,000 credits

From $12.99 for 35 credits to $200 for 1,000 credits

Desktop, but the site is mobile-friendly

Desktop, but the site is mobile-friendly

20 free credits after signing-up

20 free credits after signing-up

FREE

free registration

free app

From $2.99 for 2,000 credits (first purchase) to $179 for 80,000 credits

From $2.99 for 2,000 credits (first purchase) to $179 for 80,000 credits

Desktop, the site is mobile-optimized

Desktop, the site is mobile-optimized

Discounted price for 2,000 credits for just $2.99

Discounted price for 2,000 credits for just $2.99

FREE

free registration

free app

From $16.87 for 1 week to $134.99 for 12-month Gold membership

From $16.87 for 1 week to $134.99 for 12-month Gold membership

Desktop, Android app

Desktop, Android app

No

No

FREE

free registration
How I picked each Mexican dating site?
FAQ
Which dating site is best for finding love in Mexico?
The best site to find love in Mexico is LatiDate because of its convenience and affordability. But other dating apps and sites from my list can also be your spot to find love.
Which online dating sites are completely free?
None of the dating services I've picked are fully free. You can become a member on every site for free and use basic services, but to enjoy communication and other advanced features, members need to pay. However, La-Date, TheLuckyDate, and ColombiaLady offer their premium memberships for free to all female users.
What are the safest Mexican dating sites?
All of the platforms that I picked for the top-5 best dating sites in Mexico met my safety check. But you need to understand that no site can guarantee 100% safety, and romance scams are still a thing. That's why pay attention to red flags and block suspicious profiles.
What is the most legitimate Mexican dating site?
Each Mexican dating app and site that made it to my top 5 list is legit. But if I needed to pick one, I'd say La-Date. It's the most legit for me because of the higher reply rate, verified members, and strict moderation.
Can you really find true love on Mexican dating websites?
Yes. Why not? The beauty of love is in its unpredictability. It can happen anywhere, but dating apps and sites just gather people who are open to love in one place. Therefore, the chances are higher!

Your loyal TheTravellingFrenchMan, aka a travel and relationship expert with a BSc degree in Cognitive Psychology and more than 10 psychology and coaching courses completed. I've already been to 33 countries, and my list is growing!

I'm passionate about exploring the world, enjoying the best of it, meeting new people, and falling in love. I believe that love and travel are what I was made for. And I'm here to share my story and honest opinions with you!
Related Articles