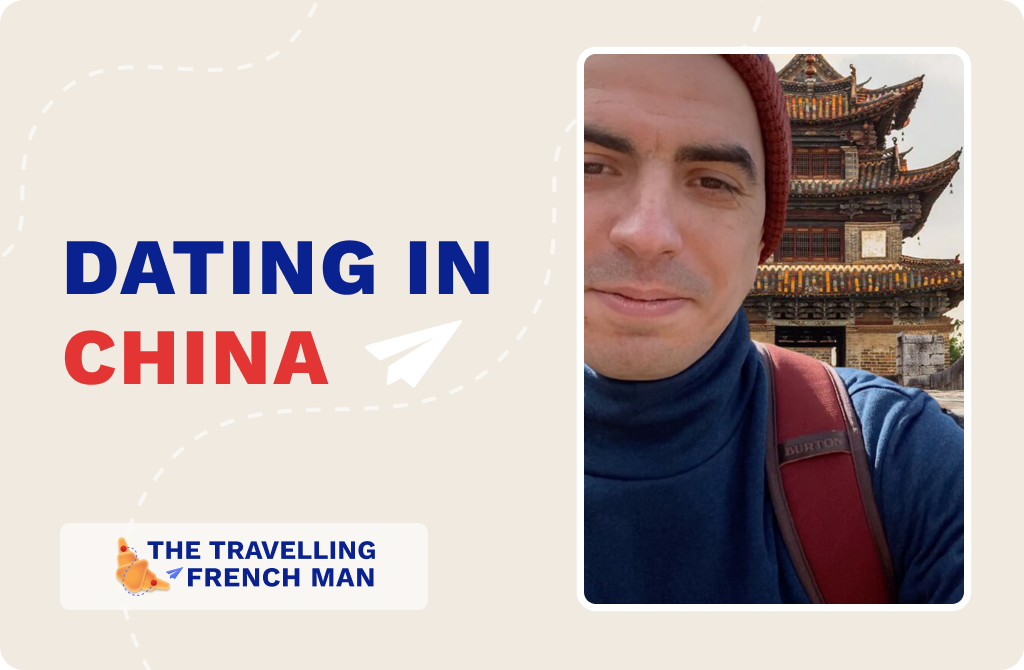 Exploring Chinese dating culture was my goal for the last trip to China. I was always amazed by how Chinese people keep their traditions but still manage to be the trendsetters of technology and innovation.
This unique contrast of old and new is how I can describe my first impression of traditional relationships in the country.
But a few words are not enough to explain the cultural differences between relationships in China and the Western world.
So, make yourself a cup of tea, as you know your TravelingFrenchMan likes to rumble about his romantic relationship adventures across the globe. And today's destination is the People's Republic of China.
Traditional Dating Culture in China
My experience with exploring how young Chinese adults approach relationships started in my Airbnb. As I arrived late in Guangzhou, and my good old friend met me at the airport with his wife.
They have a pretty boring love story, as he come to China as an English teacher and she was one of his colleagues. But what was interesting to me is the chance to talk to a woman who is over 50 and generations of her family living in China.
I told her about my blog, and what I do for a living and she immediately started nagging that modern youth are waiting for something. They wait till the age that they won't have healthy children.
Though, I understand where she was coming from, but no judgment here from a gut who is not planning to get married soon!
She told me a lot during our ride, and as I came with presents, we stayed at my Airbnb and had a great catch up and I also couldn't miss a chance to ask something for you.
That's what I found in traditional dating in China.
Arranged marriages and matchmakers connect Chinese women and men
In Chinese dating culture, the use of traditional matching techniques, such as introductions through friends and family, is still common. But Chinese people took it to the next level with matchmakers as the country has 240 million singles.
The main reason why arranged marriages still happen is that family values and collective above desires are highly valued in traditional Chinese society.
Such marriages between Chinese women and men are seen as a way to preserve social stability, lineage, and family honor. In picking ideal mates based on social rank, family history, and compatibility, parents and elders were extremely important.
You can see matchmakers in action in the marriage market in Shanghai.
Confucian values and their impact on dating
Confucian ideals, you know, have had a significant influence on dating in China. Family, respect, and high morals are central to Confucianism. It still remains the most influential philosophy in China.
As a result, when it comes to dating, Chinese people frequently value their family's approval. They want their parents to approve of their relationship choice and ensure that they fit into their social order.
People also want partners who have high values, such as loyalty and respect.
And, yes, conventional gender roles still play a part in dating, with men expected to give and Chinese women to nurture and support.
Modern Dating Culture in China: Influence of Western Culture on Young Chinese Women and Men
But, you know, things are changing. Younger generations are breaking away from these old rules in favor of modern and Western dating practices.
More Chinese men and women choose with their hearts and not how their Chinese parents want
More Chinese women and men are open to casual dating and it's now more socially acceptable
Chinese guys and girls are more comfortable with expressing affection in public, which was less common
Not traditional relationships are also more common now, than ever before
And I was also surprised to learn that going on formal dates and doing different activities together is something that was brought from the West.
Also, western culture influenced how young Chinese women and Chinese men communicate openly about their expectations and goals in the relationship.
Where to Meet a Single Chinese Woman or Man?
During my time in China, I talked to more than 30 couples and many Chinese singles when I was attending a local matchmakers conference.
I love self-development and if I have a chance to learn something new about my passions, I use it.
And all the Chinese girls and guys gave me so many ideas on here to meet local singles. But all of them can be divided into online and offline options.
Online Dating in China
When I was asking different Chinese people about where a foreigner can meet a Chinese girl, despite the age of the person, I heard online. It was the first response of probably 85% of the Chinese girls and guys I talked to.
And, that's why I wasn't surprised to find out that 89% of Chinese people had used a dating site before. But I was shocked that the dominant group of people using dating apps and sites are over 35. They make up 20% of singles online.
If you want to find a Chinese guy or girl who is open to dating Western men or women you can either go for international dating apps or mail-order bride services. The first will help you to connect with foreign singles from all over the world, and the second with many Chinese women and men seeking a serious relationship.
I was recommended a lot of Chinese and Asian dating apps, but I think that those will be most effective for foreigners searching for dating sites with real Chinese men and women.
| Rank | Site | Free Trial Link |   |
| --- | --- | --- | --- |
| #1 | TheLuckyDate | | |
| #2 | EasternHoneys | | |
| #3 | AsianMelodies | | |
| #4 | AmourMeet | | |
Offline Dating in China
Searching for Chinese parents offline is another option if you are interested in casual dating or want a more serious relationship.
I've already told you about the marriage market where parents make banners advertising their sons and daughters. However, that's not the only option.
As in many Western cultures, couples meet in cafes and parks and then grab some coffee. But what is more common in China than anywhere I have ever been is blind dates. It was funny to learn that a good amount of Chinese couples meet through such blind dates, known as xiao hun li, where dating partners agree to meet someone they don't know through mutual friends or special services.
I see a throwback to matchmaking that we also covered before and that is a long tradition in Asian countries.
Though I can see how offline dating relationships blossom in China, I can say that a foreigner can easily begin dating a Chinese girl. Many women are open to a romantic relationship with a guy from abroad, but wouldn't exactly strike up a conversation.
And language skills of many girls and guys in China are not the best. Many just don't speak English at all.
And even some of those who say they do, don't.
It's especially hard when you are going on the first date, trying to make a good impression, and can't charm a girl with compliments and sweet talk like you would with Western women.
However, offline Chinese dating exists, and I'd recommend first finding someone you like on one of the dating apps and then committing to traveling to China. This country is definitely a great traveling destination, but it's not cheap.
So, your guy is saving you some money here 😉
TheTravelingFrenchMan recommends: The first date locations in Beijing, China
Summer Palace is a romantic date with a scenic view of the imperial garden and a picnic in one of the picturesque spots

Houhai Lake for a casual date. But if you want to make it special there is a paddle boat rental and I'd recommend grabbing a bite at Black Sesame Kitchen or Dali Courtyard

Beihai Park for a romantic boat ride and cozy date in a beautiful environment of pavilions, gardens, and a serene lake. If you go there check out Little Yunnan for dining, the food is de-li-sh-es there!
Challenges of Dating in China
Chinese culture different from American dating and that's why Western men face a lot of challenges when adapting to local norms and Chinese dating customs.
Let's take a look at some of the most important challenges that you might face dating in China.
Chinese dating etiquette
Chinese culture for dating is heavily influenced by traditional societal norms that are quite conservative. It results in extreme politeness and family involvement in all the decision-making in the relationship.
Can you imagine consulting your dad on every chick you date?
Oh, Gosh, no no…
Also, an interesting thing about Chinese dating traditions is gift-giving, where couples buy different small cute things for each other.
And for some reason, there is a thing for wearing matching outfits. It's considered super cute and many couples really do that to show that they are together.
And I'm not talking just about teenagers!
So, the key to overcoming cultural differences is to learn about them, be curious about your date's home country, and ask hundreds of millions of questions if you need to.
Language barrier
I emphasized a few times that China has low English proficiency and it gets more challenges for international couples than adapting to Chinese culture does.
Not understanding each other, and having trouble communicating your feelings and ideas makes it harder to create a bond and deeper connections.
The beauty of a Chinese woman is incredible, but without proper communication it's nothing.
But the good news here is that almost every Chinese woman or Chinese man is willing to learn English. My friend, an English teacher, told me that he regularly has students who try to learn to speak English as fast as they can to understand their Western partners better.
Tips for Foreigners on How to Navigate the Dating Scene in China
If you are serious about your intentions about dating Chinese women or men, your loyal TravelingFrenchMan has some pro tips up his sleeve. When I was chatting to 30 couples who have been together for different periods of time I asked them about what they think helped their relationship work.
For sure love was a top response, but they also gave me a few cool ideas on navigating the Chinese dating scene.
#1. Put yourself out there
Explore services for dating Chinese women and men and pick a reliable place that matches your dating goals. Of course, there is Chinese Tinder, but a specialized website will be more effective.
#2. Put effort into creating an eye-catching profile
Don't rush to start dating but fill in your profile, add hot photos, and communicate your intentions, to attract a Chinese man or woman of your dreams.
#3. Mind your communication
Misunderstandings will happen, so just don't be afraid to ask for clarification when needed. Also, don't be shy to bring a translator to your first date, if you know that you won't be able to chat properly.
It's a common practice here.
#4. Beware of marriage expectations
Chinese singles especially women are pressured to start dating and marrying early. That makes a lot of girls feel like they should do everything to be married early. So, they start talking about future children early on and make create a pressure of commitment early on. However, things are getting different in big cities and urban areas.
Сonclusion
Chinese culture for dating is so interesting and unique. Frankly, I was surprised a few times and it was nice to learn how Chinese dating combines marital stability with modern one-night-stand traditions.
Decades ago no Chinese girl or guy would think of these! But as in other cultures everything is changing in the Chinese culture too, the key is to keep up!
FAQ from readers
Is dating in China difficult for foreigners?
I wouldn't say that dating in China is difficult, but it comes with quite a bunch of challenges like overcoming the language barrier, adaption to extreme pressure from society, getting parents approval, and so on. But the popularity of dating sites and the influence of Western countries makes the process easier.
How does Chinese dating culture differ from Western dating culture?
There are two main differences between Chinese dating culture and Western cultures: individualism and collectivism, and attitude to gender norms. Chinese women and men are raised traditionally and caring more about others, while Western counterparts are usually raised in a more self-centered way.
Can foreigners date Chinese people?
Yes! Sure! Foreigners can and are dating many Chinese women and men, as many singles from China are open to international relationships and marriage. The gender imbalance in China as well as the pressure to marry before 30 pushes people to search for love abroad.
What are some tips for navigating the dating scene in China?
I'd say that the most important tip that I can give is to educate yourself on personal relationships in China before you start dating. Read my blog and more info on romantic relationships in the country to just know what to expect. Also, it is equally important to put yourself out there and use popular dating apps and sites.

Your loyal TheTravellingFrenchMan, aka a travel and relationship expert with a BSc degree in Cognitive Psychology and more than 10 psychology and coaching courses completed. I've already been to 33 countries, and my list is growing!

I'm passionate about exploring the world, enjoying the best of it, meeting new people, and falling in love. I believe that love and travel are what I was made for. And I'm here to share my story and honest opinions with you!
Related Articles