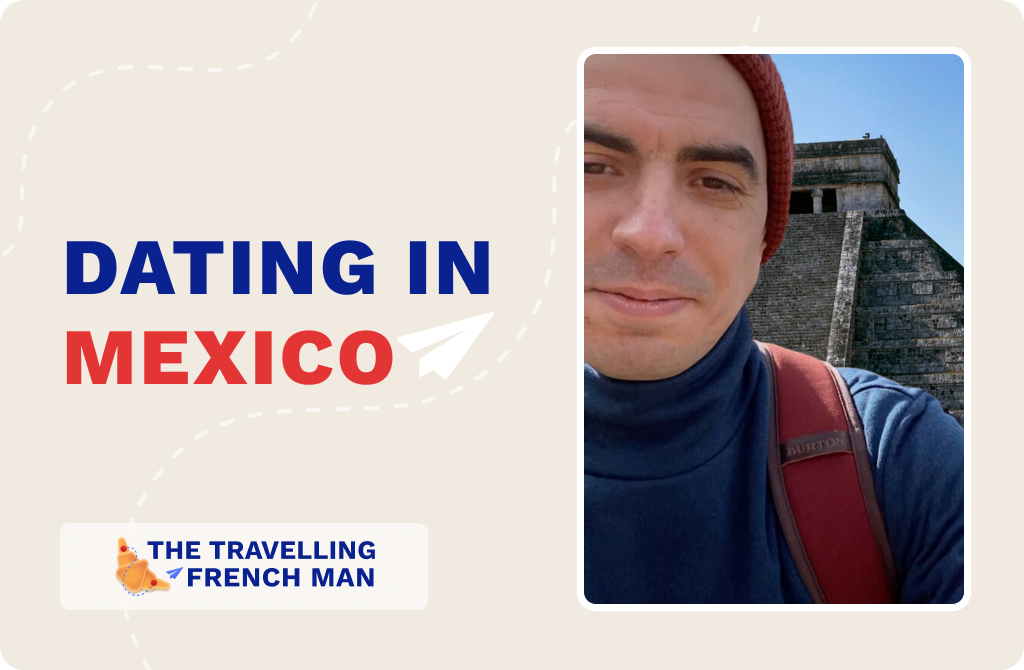 ¡Hola amigos! I couldn't resist digging into the intriguing realm of Mexican dating culture as a curious tourist with an adventurous heart.
During my journey through Mexico, I realized that the country's romance is a brilliant tapestry woven with a mix of passion, tradition, and modern influences in everyday life.
Today, I want to share my own thoughts and experiences regarding dating in Mexico. Prepare to be immersed in the wonderful realm of Mexican romance and uncover the secrets that make it genuinely unique.
Traditional dating culture in Mexico: A timeless dance of romance
Traditional dating in Mexico is shaped by cultural values and practices, creating a one-of-a-kind experience. Centuries-old practices have a strong influence on how Mexican guys and girls approach dating.
Picture this: bright plazas, moonlight serenades, and the art of wooing that has been passed down through the centuries.
That's what traditional dating and sex culture are about in Mexico.
Family arranged marriages
In Mexico, family is very important in dating. And I'm not talking about being family-oriented—the actual girl's father and mother are involved in the relationship.
When you have a Mexican partner, be ready that you'll need to seek their parents' approval and blessing, especially if we're talking about rural areas.
Meeting both the mother and father is an important milestone in a fulfilling relationship, and it is a sign of a strong commitment. Strong family ties mean a lot for most Mexicans, which makes Mexican men and women seek "parent's matchmaking."
Sure, some Latina women or men will go against the will of their parents, but it's more common in TV romcoms than in real life.
The concept of "cortejo" and its impact on Mexican culture of dating
Another intriguing feature of traditional Mexican dating culture is the idea of "cortejo."
This refers to traditional courting traditions in which males show their desires and woo their love interests through attractive gestures and romantic dates.
This enthralling wooing dance includes serenading with a guitar, sending flowers, and planning extravagant first dates together.
Traditional gender roles
Moreover, gender roles and expectations continue to have some power in conventional Mexican dating. And judging from what I've seen, many gender stereotypes about home labor division are still true.
70% of all Mexicans have a male head of the house
78% of the Mexicans are Catholics, and Catholic values also make traditional gender roles a bigger deal
Another way I've seen gender roles in the Mexican dating culture is in how people start dating.
Mexican guys, like many Latino men, often take the initiative in pursuing the women they are interested in, while women reflect class and femininity, allowing men to show their devotion and care.
I've noticed that Mexico's traditional dating culture is like stepping back in time—when love was valued and wooing was an art form. So, be prepared to get lost in the eternal dance of passion that makes the traditional Mexican dating culture so appealing.
Modern dating culture in Mexico
I'd say that the motto of modern Mexican dating culture would be embracing change while preserving traditions and keeping more family values than Westerners.
All of what I've just talked about above is a big part of modern dating culture, but Mexican people are not isolated from other cultures around the world, and local dating tendencies change.
Let's explore my insights about modern love in the country based on more than 40 interviews and talks with local singles and married couples.
Influence of the Western culture on Mexican dating
The dating scene in the country has been affected by Western society, giving traditional practices a modern spin.
With movies and dating sites, young people are more exposed to casual dating and online apps.
But don't worry; the cherished values of respect, family life, and real connections remain, producing a unique combination of old and contemporary.
Exploring the contrasts: Mexican dating vs. American dating culture
Is Mexican culture different from American dating?
The short answer is yes.
Both countries have distinct dating cultures. Let's look at how dating a Mexican girlfriend or boyfriend differs from the experience with a US partner:
Mexican dating culture
The opinions of the family and community are a big deal.

There is more conservatism, and the emphasis is on strong connections rather than sexual tension.

Traditional gender roles can come into play.

Dating a Mexican girlfriend or boyfriend is rather slow-paced.

PDA (public displays of affection) might be more low-key.
US dating culture
It's all about personal freedom, independence, and being self-reliant.

Casual relationships and dating men and women at the same time without going "official" are popular practices.

Gender equality is valued both in big cities and rural areas.

Things can move fast, including sex, when compatibility clicks.

Americans tend to be open about PDA.
Keep in mind that these are generalizations I use to show differences, and they should not be taken as gospel. Your experience with a Mexican guy or girl might lead you to different conclusions.
So, whether you love the traditional charm of Mexico dating or the independent vibes of American relationships, have fun and embrace cultural variety.
Where can I meet Mexican women and men?
If you're ready to enter the exciting world of dating a Mexican man or Mexican woman, you might be asking, "Where should I start?".
Fear not, my daring companions, because I have many options for you to explore.
Online dating in Mexico
Online dating has become a popular way to connect with possible companions in Mexico in our digital age.
Probably every person I've chatted with in some way has told me about online search. No wonder statistics show that many Mexicans, as well as people from Latin America in general, use dating apps and websites a lot.
So it's easy to benefit from dating apps and websites. These platforms can help you view profiles, talk, and connect with many Mexicans who share your interests and relationship goals.
If you are ready to meet your Mexican woman or Mexican man, explore reputable dating websites. They'll work regardless of whether you're seeking casual dating or a serious relationship.
| Rank | Site | Free Trial Link |   |
| --- | --- | --- | --- |
| #1 | La-Date | | |
| #2 | ColombiaLady | | |
| #3 | LoveFort | | |
| #4 | LatamDate | | |
Offline dating in Mexico
Offline dating in Mexico provides an abundance of options to meet new people for those who prefer a more conventional approach.
Visit popular social venues such as cafés, pubs, and cultural events to learn about the bustling local scene. I met my first date this way.
Also, an interesting way to find Mexican women and men offline is by joining social or hobby-based clubs. That may also be a great way to meet like-minded people who share your interests.
Oh, and language learning courses are a way to meet not just a hot Spanish teacher…but many beautiful Mexican women who are learning English.
TheTravellingFrenchMan recommends: First date locations in Mexico
Plaza Garibaldi (Mexico City). It's also known as the "Home of Mariachi." Your date in this place will involve lots of music, dancing, and socializing with locals.

Xochimilco (Mexico City). Take a colorful trajinera boat trip through Xochimilco's waterways. While getting to know one another, enjoy the festive environment, live music, and amazing street cuisine.

El Malecón (Puerto Vallarta). Walk hand in hand along El Malecón. Take advantage of the sea air, street entertainers, and bustling environment. If you love art as much as I do, go to local art galleries or have a drink at one of the seaside pubs that your partner picks.

San Miguel de Allende (Guanajuato). San Miguel de Allende, known for its lovely cobblestone lanes and gorgeous architecture, provides a romantic backdrop for a first date. Take a leisurely stroll around town, explore local art galleries, and dine at one of the charming restaurants.

Parque Fundidora (Monterrey). Spend your first date in Parque Fundidora, a huge urban park with a mix of open spaces and an industrial past. Enjoy cycling, rollerblading, or having a picnic.
Challenges of dating a Mexican girl or guy
Dating someone from a foreign culture, especially dating a Mexican lady or guy, may be a crazy experience.
But, hey, let's not be afraid of a challenge!
Here are the main issues you may face and ways to overcome them.
Language barrier
The very low English proficiency of Mexicans makes it harder to build a strong connection during the initial stages of a relationship.
Okay, so maybe your Spanish skills aren't muy bien.
Not a problem!
My Spanish teacher would kill me for the way I talked during my trip…
Consider it a chance to learn together. Use the app, enroll in lessons, or simply practice together.
Laugh at your mistakes and enjoy the adventure of speaking another language.
Cultural differences
Mexican culture is rich in traditions and Mexican dating customs. You may have trouble understanding them.
To make it easier for both of you, show genuine interest in the Mexican culture while also sharing your own.
If you want to make your relationship work, remember that it's all about learning from one another and building a wonderful cultural blend.
Family influence
Mexican families are close, which may be a whole different world to get used to.
When getting to know your partner's family, be patient and open-minded. Participate in large family gatherings, give compliments to the mother's cooking, and show that you actually care.
Respect their customs and standards, and you'll get a lot of points.
Tips for foreigners on how to navigate the dating scene in Mexico
Here are some tips to help you make your way through the exciting world of dating Mexican women or men:
Go for a legit dating website. If you want to meet an honorable person and not a scammer, join only trustworthy platforms like those I test.

Learn some Español. Memorize a few simple Spanish expressions and compliments to spice up conversations.

Take it easy, amigo. The relationship race is won by going slowly and steadily. So, no hurrying!

Keep it real. Just be yourself! Staying real will get you more respect among Mexicans.

Don't be pushy. Considering that the macho caballero paradox is a thing, no Mexican woman will appreciate American men who are too persistent in a bad way.
Follow my advice when dating a Mexican woman or man, and let your relationship blossom!
Final thoughts
In a nutshell, Mexican dating isn't always easy, but trust me when I say it's well worth the effort!
My go-to as a traveling Frenchman is online dating. It's like going on a virtual treasure hunt.
Viva el amor!
FAQ from readers
Is dating in Mexico difficult for foreigners?
Relationships with Mexican women and men might be tricky, but it's not mission impossible! Many locals are interested in and open to intercultural relationships and moving from their home country.
Can a foreigner date a Mexican woman or a man?
Absolutely! Foreigners are welcome to date Mexican women or men. Love has no boundaries, and cultural diversity may only enhance relationships.
What are some tips for navigating the dating scene in Mexico?
Here are some useful suggestions to keep in mind when entering the Mexican dating scene: pick a reputable dating platform, learn some Spanish phrases, take it slow, be genuine and true to yourself, keep an open mind, and enjoy the ride of meeting new people.

Your loyal TheTravellingFrenchMan, aka a travel and relationship expert with a BSc degree in Cognitive Psychology and more than 10 psychology and coaching courses completed. I've already been to 33 countries, and my list is growing!

I'm passionate about exploring the world, enjoying the best of it, meeting new people, and falling in love. I believe that love and travel are what I was made for. And I'm here to share my story and honest opinions with you!
Related Articles