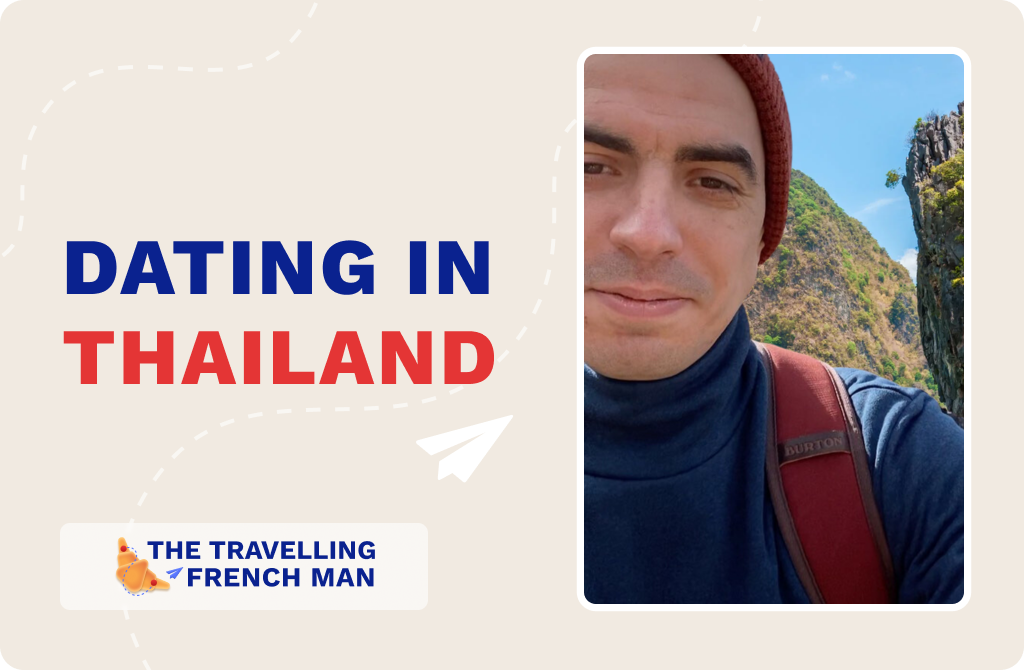 Hi there! Your TravelingFrenchMan is exploring the world again. I've always been fascinated by Asian cultures, so when I had the opportunity to travel to Thailand for work, I jumped at the chance to learn more about Thailand dating culture and share my experience of going on dates with Thai women.
So, are you ready for the journey to The Land of Smiles? Fasten your seatbelts, and let's go!
The Foundations of Thai Dating Culture
As soon as I landed in Bangkok, I was swept away by the beauty of the land, Thai culture, gorgeous temples, and, of course, stunning Thai women. I was turning my head so hard that I needed to use my sports gel to relieve the neck pain. That's what it means to be in the 30+ category…you can get hurt even from looking at beautiful women.
As they say, "La douleur est une épreuve nécessaire pour révéler la véritable force de l'amour," which means, "Pain is a necessary test to reveal the true strength of love." But I never thought that it was about neck pain. But what was I talking about…
I made so many Thai women and guys who became my friends, talked a lot, and ate a lot. But what I really wanted to know was how Thai girls and guys approach dating. So I did what I do best—asked locals, and they were very kind to tell me so much about Thai dating customs, the good old days, and how everything is changing now. So here is what I learned about Thai dating culture!
Historical and Cultural Overview of Thai Society
The Kingdom of Thailand can boast of a rich history and culture that were shaped by the peculiarities of local geography, religion, and politics. Talking to Thai women and men, I've learned how these factors are an important part of Thai society, and they are often influenced by these factors. Here is how:
Paternal authority. Historically, Thai people were ruled by a monarchy, where the King was seen as the ultimate authority. This extended to other aspects of Thai society, including relationships and the popularity of traditional gender norms. Thai women tend to be the main home and caretakers, while men are usually expected to provide for the family.

Buddhism. As 95% of Thai women and men follow this religion, it plays a significant role in society and influences many aspects of daily life. For example, one of the Buddhist teachings is always being compassionate, respectful, and kind, which are really the three words I can describe most Thai women and men with. They welcomed me with open arms, as if I was a close friend or a relative, whenever I came.

Tight-knit families. Unlike in Western countries, nuclear families are not common in Thailand. Couples here live together with their families, and sometimes even a few generations live under the same roof. You might wonder how it affects Thai dating. Parents of a Thai partner will have a significant influence on the way your relationship develops, as well as taking care of family members is usually expected.
All of the things that I mentioned result in different levels of politeness that are common in Thai dating culture, depending on the social status.
The Concept of "Sanuk" and Its Significance in Thai Dating
A new friend of mine who lived on the same street as I told me about the interesting concept of Sanuk, which translates as fun or enjoyment. And both Thai men and Thai ladies live by the belief of enjoying life. I've noticed that it reflects the dating practices of local people. In particular:
Couples engage in fun activities and make interesting plans not just for the 1st date but throughout their relationship. It made my first date a bit hard as I'm not a big planner.
Sanuk also reflects humor and playfulness in communication. That's my cup of tea. I enjoyed observing a Thai lady in the bar and her man who were teasing each other. I think such a lighthearted blunter is a great way to show affection and build intimacy.
The Sanuk concept is not just a Thai girlfriend-boyfriend thing. It appears in Thai festivals and even everyday interactions with Thai families and friends.
Such concentration on enjoying life was a refreshing change from other Asian cultures that are more conservative and collective. My French soul flourished in Thailand's praise of pleasure and reminded me of Flânerie and enjoying simple things.
Traditional Gender Roles in Thai Relationships
As I've already mentioned, Thai men and women live by traditional gender norms. Though things are changing and, for example, Thai girls in urban areas are entering the workforce (yet not to the extent of Western women). For instance, in rural areas, not all Thai girls have an education.
Another thing that I mentioned about gender norms is that the head of the family, the father, usually picks a husband for his daughter solely on the man's capability to provide. Foreign men get a few points here, as they are often relatively wealthy, but it suppresses an average Thai girl from following her heart.
Where to Meet a Single Thai Woman or Man?
As I was pumped to go on a date with a beautiful Thai lady, one of the questions I asked the most was about how foreign men can find Thai girls for dating. I got a lot of advice, but most of it can be divided into online and offline routes.
Online Dating in Thailand
The first and most given advice from Thai men was going to Thailand dating sites. The influence of Western countries did its job, and modern Thai girls and guys most often meet each other online. So I did my beloved Googling and found some interesting stats:
75% of local people have been on virtual dates
31.68% of Thai ladies and guys use dating sites several times a week
53.7% of married Thai men and women engaged in online dating, which is the 3rd highest rate in Asia
Also, I found out that young people tend to use online dating more, but many singles choose to join dating sites for:
A wider pool of potential single Thai men or women
Convenience in dating Thais
Finding a person who is a perfect match for dating goals
It's cheaper than going to the bars or cafes in hopes to meet someone
Depending on the dating goal, singles opt for different types of online dating platforms:
Local dating apps for meeting Thai ladies and guys nearby (also suitable for foreign men in the country who want to date a hot Thai girl)
International services to date foreigners
Mail-order bride sites for those seeking serious relationship and potential partners for marriage
Casual sites for NSA relationships, hookups, and one-night stands
A Marriage service agency, like Bangkok Matching, that arrange marriages based on the couple's compatibility are mainly used by locals and their parents who want to find a husband or wife in big cities
If you are curious about what platforms I was recommended the most as a foreigner in Thailand, check out these legit Thai dating sites that work best for guys and girls who want to get a partner specifically from Thailand.
| Rank | Site | Free Trial Link |   |
| --- | --- | --- | --- |
| #1 | TheLuckyDate | | |
| #2 | EasternHoneys | | |
| #3 | AsianMelodies | | |
| #4 | AmourMeet | | |
Offline Dating in Thailand
It wouldn't be me if I didn't mention traveling to Thailand and my experience of going on dates as a regular French guy with zero knowledge of any Asian language. But Thai Cupid was well-disposed to me, and the majority of people in Bangkok spoke decent English.
My experience with offline dating started when I wasn't expecting it, and my tongue is the reason for that… But that's not what you may have thought!
I just struck up a conversation with a stunning Thai woman who had such an amazing oriental perfume that just knocked my socks off. And I blinked, and we exchanged numbers and agreed to go on a date that evening. I arrived early and waited for a bit for my Thai lady, Sasi, at the entrance of Lumphini Park. We took a walk and chatted a lot and then enjoyed a romantic dinner on the rooftop restaurant Vertigo, which was just 10 mins away from our first date spot.
Everything seemed so smooth, I didn't feel a language barrier with my Thai girl, and we both had a great time. We even arranged a second date, which is not a common thing during my trips. I wanted to explore bustling city markets, and Sasi agreed to be my guide. Spoiler alert! We went to Asiatique Night Market and had the time of our life. We ate so much street food that my stomach wasn't ready for that, but that's a whole different story. So, for all my readers searching for good spots for romantic dates, check out the spots I picked. And Bangkok has a vibrant culture and a lot to offer, not just for the first-date wow effect.
Overall, offline dates can be great in Thailand. But would I recommend an offline search for a Thai woman? Probably not.
I think that I got lucky to meet such a gorgeous Thai lady just by chance. And going for a dating site is a more convenient option, as a large majority of Thai singles have online dating profiles, and I heard many success stories.
Dating Etiquette in Thailand
When I chatted with people and asked about their experiences dating in their home country, I straight away learned that the dating culture in Thailand is not the same as in the West. There are quite a lot of cultural differences.
Cultural Norms and Etiquette for Dating in Thailand
Here are a few norms of the Thai dating culture that I think would be useful to note for all Western men seeking a relationship with a Thai lady. Oh, and many women will benefit from exploring the cultural differences as well:
Learn the greetings to be respectful. It is a tradition to bend slightly and say "wai" (hands clasped like in prayer) while saying "sawasdee krap" (for guys) or "sawasdee ka" (for ladies), which means "hello."

Keep your looks on the modest side. Shots, tank tops, and flip-flops are the main characters of horror stories I've heard about the looks of Western men on dates. So make sure to wear something less casual.

Offer to pay for a date fully. Though it's customary for a man to pay for the first date as traditional gender roles are majorly observed (and I would strongly recommend doing so), it was a deal-breaker over a decade ago. But modern couples often split the bill. At the same time, if you want a girl to like you, avoid splitting the bill.

No shoes in the house. When you enter your woman or man's home, take your shoes right away. It's extremely rude not to do so.
In general, I enjoyed exploring and seeing these Thai cultural norms in action. They seem so natural to these bright people.
About Communication, Physical Intimacy, and Gifts
In Thailand, it's important to be mindful of personal space, as physical contact and PDA are not as common as in the West. it's even considered to be impolite to point your feet at someone or touch someone's head. I also observed that Thai people value gift-giving in a relationship with a woman or man.
Staying in the Chiang Mai Hotel, I saw so many couples exchanging small gifts in the nearby cafe. Flowers, chocolate, and small trinkets were the most popular. But the fun fact is that you shouldn't give anything that multiplies 4, as there is a superstition that the number brings bad luck.
Challenges of Dating Thai Ladies & Guys
As with any international relationship, there are some challenges that are common to Thailand-Western couples:
Language barrier. If you don't speak Thai, you might have challenges communicating with local women and men.
Cultural differences. Thailand and the Western world are quite different in romantic areas but also in the expectations of partners.
Financial expectations. There is a financial emphasis in Thailand's culture, which is why it's extra important to be honest about your finances.
In my opinion, these challenges are not a sentence, and if you want to get a partner from this country, just go for it!
Tips for Foreigners on How to Navigate the Dating Scene in Thailand
One of the biggest Thai dating culture tips I can give you is to learn to be patient and take your time. Dating Thai women, you don't need to rush but enjoy getting to know each other and your partner's family.
But I can't leave you without some more dating tips, as I have pages of them in my notebook. So here are some of the most important ones:
Be mindful of your body language as it might have weird meanings in Thailand
Pick up food with the right hand as the left is considered unclean
Be of utmost respect and keep the hierarchy meeting the entire family of Thai women or men
Learn some basic Thai phrases to show your respect
Avoid criticizing or discussing stereotypes about people in the country
Follow these few tips and enjoy relationships with Thai women or men!
Сonclusion
My time in Thailand was amazing! I felt like I had received a new perspective on love and relationships. I learned the importance of patience, respect, and openness, and I got to enjoy some amazing moments with my date. Now I know that a foreigner can easily ask a woman or a guy out on a date in the country and have a wonderful time. While the easiest way to do that is definitely online.
Overall, my journey showed me that there are many approaches to love and romance, and we can learn from each other and develop great and successful relationships regardless of where we live in the world.
FAQ from the Readers
Is dating in Thai difficult for foreigners?
I wouldn't say it's difficult, as singles from the country are open to international relationships, and many are ready to move abroad. But you need to follow the Thai dating culture tips I've mentioned to have a smooth journey searching for and dating men or women from Thailand.
How does Thai dating culture differ from Western dating culture?
The main difference is in the lack of rush and the more traditional approach to relationships. An average Thai lady will wait for a guy to make the first move and take the leading role in the relationship.
Can foreigners date Thai people?
Yes! People from all over the world can date and be happily married to women and men from Thailand. Thais are quite open-minded people and don't mind broadening their dating horizons to the entire world.
What are some tips for navigating the dating scene in Thailand?
Some tips for navigating the dating scene in Thailand are the following: join a specialized dating site for an effective search of single Thais, be active, and respect your partner and their family and culture.

Your loyal TheTravellingFrenchMan, aka a travel and relationship expert with a BSc degree in Cognitive Psychology and more than 10 psychology and coaching courses completed. I've already been to 33 countries, and my list is growing!

I'm passionate about exploring the world, enjoying the best of it, meeting new people, and falling in love. I believe that love and travel are what I was made for. And I'm here to share my story and honest opinions with you!
Related Articles